課程資料
Pitter Painter Primary (5-11 YRS)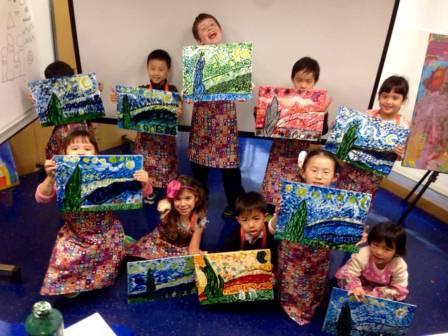 Unleash your child's creativity with painting lessons in an inspiring and a nurturing atmosphere! Children will have fun drawing, painting and letting their imagination run free. In small classes, they will be guided through creatively-themed projects and taught the fundamentals of drawing, color mixing and painting techniques and even some interesting bits of art history. You can learn more about our classes and view some of our students' work at www.pitterpainterhk.com, on www.facebook.com/PitterPainter, and on instagram @pitterpainterhk. All materials are included in the course fee.
• Each course includes 2 big painting projects, and an occasional quick (one-lesson) project.
• Big painting projects done on canvas with acrylic paint. One-lesson projects done on artist watercolor paper.
• Drawing fundamentals are included in the painting project.
• Projects are idea-based launching points for your little one's innovations.

導師
本課程資料只屬參考,如欲報讀,請與CLLE職員聯絡。
課堂
日期
星期
時間
費用 (年證)
費用 (標準)
Detail
/Enroll
2Sep 2021 - 28Oct 2021
四
17:00
to
18:00
$2960.00
$3120.00
Detail
/Enroll
4Sep 2021 - 30Oct 2021
六
11:15
to
12:15
$2960.00
$3120.00
Detail
/Enroll
6Sep 2021 - 25Oct 2021
一
16:45
to
17:45
$2590.00
$2730.00
Detail
/Enroll
7Sep 2021 - 26Oct 2021
二
16:45
to
17:45
$2590.00
$2730.00
Detail
/Enroll
1Nov 2021 - 13Dec 2021
一
16:45
to
17:45
$2590.00
$2730.00
Detail
/Enroll
2Nov 2021 - 14Dec 2021
二
16:45
to
17:45
$2590.00
$2730.00
Detail
/Enroll
4Nov 2021 - 16Dec 2021
四
17:00
to
18:00
$2590.00
$2730.00
Detail
/Enroll
6Nov 2021 - 18Dec 2021
六
11:15
to
12:15
$2590.00
$2730.00