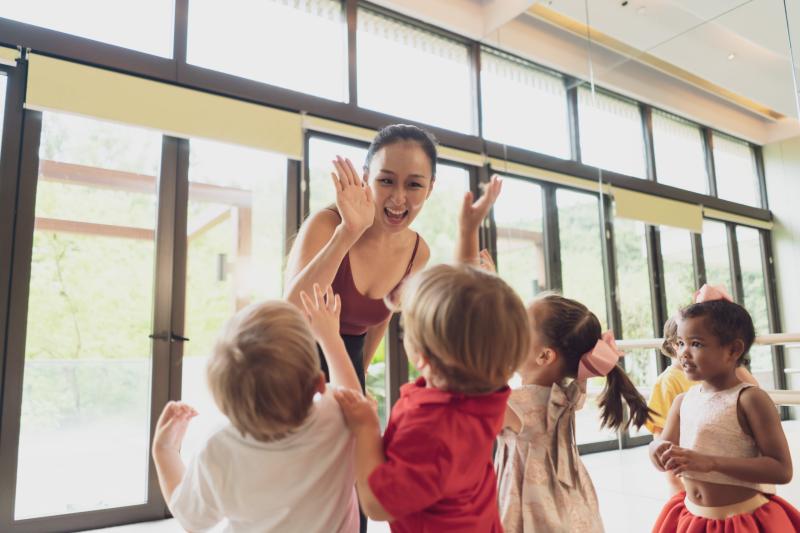 Introducing BallroomBees, a fun and friendly new way for kids to connect through dance, music and play. The brainchild of former BBC 'Strictly Come Dancing' professional Katya Virshilas her World Champion husband Klaus Kongsdal,it is a one-of-a-kind programme designed to nurture a child's all-round development – all through the joy of dance. BallroomBees students can expect to reap a range of physical and mental benefits, including improved motor skills, balance and coordination, flexibility and agility, strength and fitness, and musicality and rhythm. Suitable for both boys and girls, BallroomBees classes focus on developing children's:
* Coordination & Musicality
* Social Skills & Etiquette
* Team Work & Self Confidence
Baby Bees This is the perfect introduction to movement dance and music. It is an accompanied class where adults and children explore, experience and dance together. Our main goal for this class is to familiarize the children with the BallroomBees class structure and to create confidence and independence by awakening their senses. Gross motor skills and eye hand coordination exercises are introduced through play base dancing. The change we see in the BabyBees over the course of the classes is truly immense.The confidence and body awareness they gain allows them such freedom and makes them better listeners and better movers.
Note:
• This is an accompanied class (only 1 adult will be allowed in the room to accompany)
• BallroomBees Shoe policy: No street shoes will be allowed in the class. Parents should send the child with a change of shoes suitable for dancing like soft indoor shoes or Non Slip Socks. Students are recommend to wear designated dance shoes such as Ballet Slippers or Jazz shoes. Shoes can be bought from BallroomBees directly. For further information contact your teacher or Ballroom Bees directly.