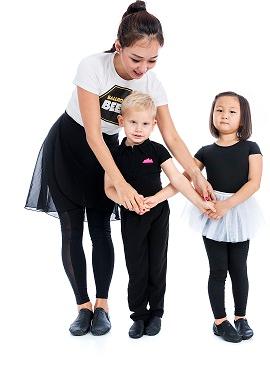 Introducing BallroomBees, a fun and friendly new way for kids to connect through dance, music and play. The brainchild of former BBC 'Strictly Come Dancing' professional Katya Virshilas her World Champion husband Klaus Kongsdal,it is a one-of-a-kind programme designed to nurture a child's all-round development – all through the joy of dance. BallroomBees students can expect to reap a range of physical and mental benefits, including improved motor skills, balance and coordination, flexibility and agility, strength and fitness, and musicality and rhythm. Suitable for both boys and girls, BallroomBees classes focus on developing children's:
* Coordination & Musicality
* Social Skills & Etiquette
* Team Work & Self Confidence
GrowingBees are indeed growing and they are developing at an enormous pace. During these years children create the first systems and habits for movement, so we build on the experiences they have gained from their life already. Children learn more about how their body moves and how to coordinate movement with music, this is something that has proven to stimulate cognitive development, and it is always amazing to see how they become more comfortable in movement. Etiquette and social skills are introduced with simple play-based exercises, and we get our first taste of actual Ballroom Dancing.
Note:
• Unaccompanied class
• BallroomBees Shoe policy:No street shoes will be allowed in the class. Parents should send the child with a change of shoes suitable for dancing like soft indoor shoes or Non Slip Socks. Students are recommend to wear designated dance shoes such as Ballet Slippers or Jazz shoes. Shoes can be bought from BallroomBees directly. For further information contact your teacher or Ballroom Bees directly.